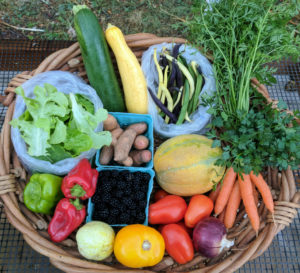 Our 2023 CSA memberships OPEN Jan 10th! You can SIGN UP and PURCHASE online.
If you would like to preview our variety of shares available, the shop pages has current information for the 2023 season.
Welcome to  Mama Tee's Farmstead 2023 CSA season! We have another exciting year ahead! Farmer's Carrie and PJ are eager to grow  vegetables and meats this year for our local community and customers.  We will be offering not only our full and half vegetable and fruit shares starting in May, but also summer vegetable shares as well which start in July. We are also happy to be offering Mama Tee's BOUNTY share which includes a combination of a full vegetable, weekly egg, Thanksgiving, and Solstice shares all rolled into a discounted price.  We also have individual egg shares available weekly and biweekly, as well as farmer's market shares at Hillsdale and Neskowin's Farmer's Market.
We grow over 60 varieties of vegetables and fruits and tend to chickens, goats, and sometimes pigs in the fields. We use agro-ecological principles and practices (sometimes referred to as "beyond organic" or regenerative) to promote soil health, ecological diversity, and community well-being on the farm.
Through tireless efforts we also provide a great and humane living environment for our animals that roam and forage among 5 acres of pastures. This results in healthier animals and tastier meats! We never use antibiotics or hormones in any of our producing animals and our chickens and pigs are supplemented using a GMO-free feed. Our animals are also incorporated into our field fertilization plan by composting manure and distributing it over our farm. The animals help keep our soils healthy and our vegetables and fruits growing strong, all the while living out their best lives.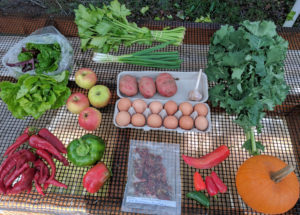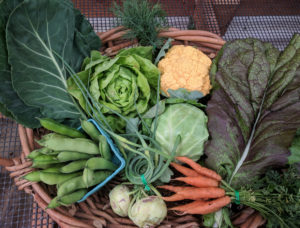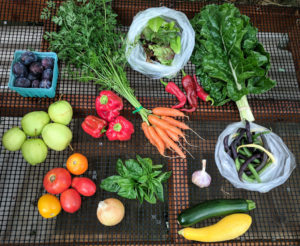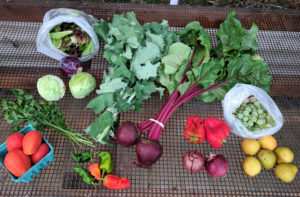 What is a CSA anyway?
CSA stands for Community Supported Agriculture. It is a shared commitment between farmer and consumer ( or share holder—YOU) that helps the farmers pay up front costs in the time we need it most and supplies the share holder with a plethora of vegetables, herbs, fruits, eggs, meats and/or preserves each week during the season. CSA's share the benefits and costs of farm production with its members, thus keeping everyone in the community connected to where their food comes from and keeping the farm's practices transparent and open. There is no better way (other than growing your own) to connect with your food and farmer than joining a CSA.
How Mama Tee's CSA works…
Starting in January, members can sign up for the CSA share they choose. Then, when your chosen season begins, you will pick up your box full of produce (and/or eggs, meat, preserves, etc.) either at a designated location: Farm, Willamina, Sheridan, NE and SW Portland or have it delivered to your chosen place (delivery option).  The season length varies depending on which option you chose. Vegetable shares are weekly, egg shares are weekly or biweekly. Your full share includes anywhere between 7 and 12 items and is estimated to feed 2-4 moderate veggie eaters. The half share usually includes between 5 and 8 items and is estimated to feed 1-2 moderate to light veggie eaters. If you chose shares which exceed $100, payment plans are available with the CSA Agreement 2023. Just download the CSA Form, fill out the information, sign and mail it in with  your choice of payment required on the form. Want to use a credit or debit card to sign up online today? You can submit all your information, sign up, and pay online by STARTING HERE!

Here are some examples, by season, of items that might be in your weekly share: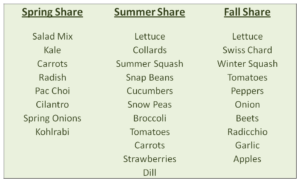 Mama Tee's is happy and proud to be able to accept SNAP/EBT benefits again this year for ALL of our CSA shares and ALL farm store products! For more
information, download our SNAP CSA agreement (available soon) or email us for more information.
The three ways to purchase your shares:
Online: submit membership form* and purchase shares
Download CSA Agreement 2023– fill it out and send it and payment in the mail
SNAP members – send us an email letting us know you are interested and we will get you processed.
Check out our delivery areas in the Portland and West Valley (areas within the red lines) below. Ask us if you are not sure and we will let you know if we can deliver to you.